Oatridge Agricultural College

Creation of a New College.
Farmlands at Oatridge, Ecclesmachan were chosen to be the site of Scotland's first local authority residential college for Further Education in Agriculture. This decision was made by a consortium of 7 local authorities comprising West Lothian, Midlothian, East Lothian, Peebles, Roxburghshire, Selkirkshire and Berwickshire. The land, some 700 acres, (an amalgam of 3 farms - Oatridge, Hangingside and East Broadlaw), was purchased by West Lothian District Council in 1966 on behalf of this consortium.
Although there was no suitable buildings for conversion into residential and classroom accommodation, there was adequate land on which to build them. Four possible sites were considered for these new buildings, and construction work commenced late 1970 (although courses had commenced in 1969 using temporary accommodation on the farm site). By late 1973 the building of the college, workshops and accommodations (for 45 students) was completed. The official opening by HRH Prince Philip, Duke of Edinburgh took place on 2nd July 1974.
Whilst the construction of a new road and buildings had some visual and environmental impact on the village, it should be noted that the overall authority at that time (Lothian Regional Council) stated in a Regional Survey and Plan (1960's):
The Regional Consultants are of the opinion that future development should not impinge directly on the existing village. However, an excellent site on which private housing could be integrated with pleasing landscape is located to the west of the village. Such a community should be large enough to support basic social, shopping, educational and utility facilities, which could then be enjoyed by the existing residents of the town group. High incidence of car ownership could be expected and new access roads would be required. Development for Middle and Upper-Income 'executives' should be encouraged here.
It is perhaps something of a 'comfort' that the land was bought and developed as an Agricultural College with working farms, the historical tradition of a 'hamlet' surrounded by working farms has been somewhat preserved.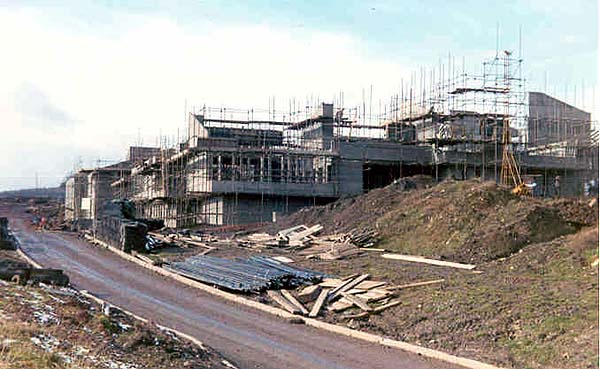 The new college under construction circa. 1971. Picture courtesy of Oatridge Agricultural College.
Since opening the college has continued to increase it's capacity by adding; 30 additional residential rooms (1977), new workshop facilities (1979), further teaching rooms and 30 study bedrooms (1980), new workshop and refectory and offices (1980-87), and a new 60 bed residence (1988). A more recent development was the design and construction of a new 9 hole commercial golf course that opened in the summer of 2000. This course is open to the public on a 'pay and play' basis and has contributed greatly to the local amenities. It is intended to change the course to a membership basis in 2002, with future plans being expansion to an 18 hole course and possibly a new clubhouse.
The College Today.
As the farm operation is used extensively for student instruction it is more complex than a commercial farm, yet it is farmed as commercially as possible. Livestock includes; dairy cattle, beef cattle, Pigs, and Sheep. Crops produced includes; grass (silage & grazing), Barley, Oats, Winter Wheat, Rape, Potatoes and Turnips (Swede).
With a staff of around 100 the college can accommodate around 250 residential full-time students, with a further 2,000 places for part-time / evening classes. The courses offered today are very diverse covering; Agriculture to First Aid, Farriery to Greenkeeping and Welding to Computer Application. Courses are offered in a variety of delivery methods (depending of the subject) from full-time residential to part-time evening classes. If you wish to see more details of the courses offered we suggest you visit the college website at www.oatridge.ac.uk by clicking here.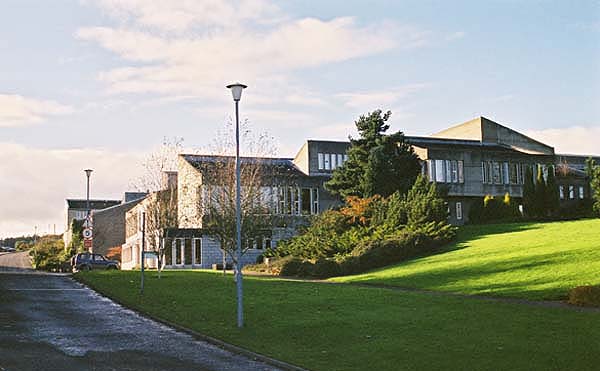 Oatridge Agricultural College 2001.
Copyright © 2002: Ecclesmachan.org.uk